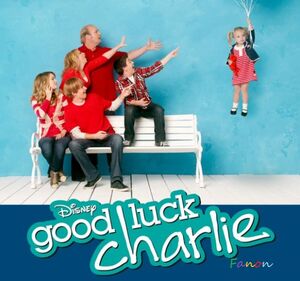 "College, Teddy" is the 19 episode from Season 4 of Good Luck Charlie Fanon. It is the last episode of the series overall. The episode is broken into 2 parts.
Plot: Part One
Edit
Teddy goes to college and has a hard time saying goodbye to Charlie. Teddy must pack for Yale, plan her going away party, and also find the perfect ending for her video diaries. Meanwhile, Charlie steals money from Bob to buy Teddy a goodbye present, a $2,000 flat-screen TV.
Plot: Part Two
Edit
Bob needs to return the TV where he runs into Skylar. Skylar and PJ get back together at Teddy's goodbye party. Before the party ends, Teddy, PJ, and Gabe all sing an emotional rendition of "Clouds" by Zach Zobiech. The episode end when Charlie says "Good Luck Charlie" for the last video diary concluding the show.
Ad blocker interference detected!
Wikia is a free-to-use site that makes money from advertising. We have a modified experience for viewers using ad blockers

Wikia is not accessible if you've made further modifications. Remove the custom ad blocker rule(s) and the page will load as expected.