This page is for Emmet Heglin from ANYBODY'S viewpoint!You may edit it in any way!
'
Emmett'
Heglin
is PJ's best friend and drummer of his band. He also has a crush on Teddy. His talents are pro dancing and playing the drums.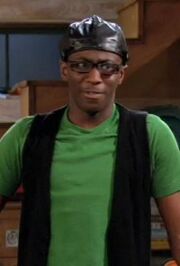 Personal life
Edit
He has a crush on Teddy and even believes they have a relationship. PJ replies to this by saying, "Dude, there's no RELATIONSHIP!" Emmett also gets jealous at Spencer when he has a study date with Teddy, and even tried to threaten him, but apparently got scared ("Study Date").
PJ worries that he is going to bald like Bob, and so he later challenges Emmett to a baby race with his nephew against Charlie. Charlie ends up winning by taking her first steps ("Double Whammy").
A dance is approaching at Teddy's school. Teddy asks Spencer out for the big night and Ivy asks out Emmet. Teddy tries to get her first kiss from Spencer, but Emmett, who also likes Teddy, tries to distract Spencer ("Dance Off").
Relationships
Edit
He is Very good friends with PJ.
Apparently, Emmett has a crush on Teddy. He says they have a "relationship" with Teddy, which PJ replies "Dude, there's no relationship!" to with he replies "My mom knows about it". Teddy obviously doesn't like him back. When Emmett gets jealous of Spencer because he was dating Teddy, he tries to threaten him, but because of Spencer's height and strength, he doesn't succeed ("Study Date").
Ivy was Emmett's girlfriend at some point before the series began, but she dumed him. This relationship is not seen but mentioned. Except possibly when they go to prom togeter, just because Ivy and Teddy needed a ride.