Secret surprise

created by:

puppylog

Directed by:

Jazatz2

.

episode guide

previous ep:kidnapped kayla pt.1

next ep:over week 6/30/12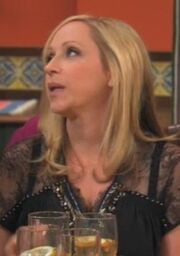 "OW.Man why does my stomach hurt so much." Amy yelped.But she was planning on going to the doctor."Uh dad can i ask you something." Teddy said to Bob."Sure honey" he responded."Can we go to the mall and get me a new phone since it got in the toliet." She said to him."but h...." He tried to say."Please dad." Teddy whined."fine.get in the car." He said."PJ,GABE IM GOING TO THE DOCTOR AND TEDDY AND YOUR DAD ARE AT THE MALL I NEED YOU TO WATCH CHARLIE,ALLIE,AND KAYLA" she yelled at them.She walked out of the door."So how do we watch 3 kids." Gabe said to PJ "ewsy you just watch wus" Kayla said."Thanks for the tip." he said sarcasticlly.Kayla laughed at him."Ok Amy I found out was wrong with your stomach." The doctor said to Amy."Ok but don't tell me any bad." Amy said to the Doctor."Ok the problem is that your pregrant" Amy looks shocked."and its bad." She whispers.She can't believe she is having a 7th baby.But the bad part how to tell the family.She thinks and thinks and then she has it.She is going to invite them out to dinner tonight.They'll have fun and then boom in pregrant.Amy thinks."Ok everyone get in the car.were going out for a family dinner." She said."YES you're sooking stinks" Gabe says.Amy looks at him angrily."I mean yay family fun time." he runs out of the room."Ahh.Isn't this nice."Amy asked."yep" Teddy said."Ok guys im going to say this in the calmness way i can..........I'm pregrant." Amy said."OH MY GOSH THATS AMAZING" they all yell."what your not angry." Amy asked happy."No but it is our last." Bob replied.So they had dinner and was happy for the new baby.
This was the first episode where Amy didn't have the baby right away
This as directed by Jazatz2
This was the 1 part out of the new 14 parter
you can vote for the baby name.search puppylog in search bar.look at my latest blog and comment what u want the name to be.But hurry voting ends on July 9,2012