'
Teddy's Boyfriend the Werewolf Pt.3:Teddy and the Beast
is the 3rd and Final Part of Teddy's Boyfriend the Werewolf Arc.
When Teddy goes with Ash,Katie,and PJ to the Premeire of
Uh...DUH!
as a goodbye party for Katie she dicovers she still has feelings for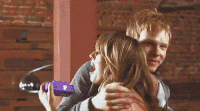 Ash.She tries to shake the feeling but she can't.She decides to get Ash back.However after a date with Jason she relizes she is in love with him too.She has trouble decideing.Teddy Decides she truly loves Ash and Breaks up with Jason.Out of sadness Jason leaves town.Teddy and Ash then Go to the
Blu Mansion
and Share a smoothie.

Katie moves back with her mom in this episode.However she will come and go.
This is the 3rd time Hannah Blu is in a movie
all votes must be in by January 16th as the votes are counted that day close to 1:00 PM.If no one votes or iff its a tie results in the tied/all options being put in a hat Poll Closed.I think it might be better to just to do what I want Sorry guys!Pickledudette (talk) 17:43, January 13, 2012 (UTC)
Ad blocker interference detected!
Wikia is a free-to-use site that makes money from advertising. We have a modified experience for viewers using ad blockers

Wikia is not accessible if you've made further modifications. Remove the custom ad blocker rule(s) and the page will load as expected.