Plot
The twins have their first birthday.everyone gives them gifts:
Amy:toy monkeys Bob:Pet Mouse he caught
PJ:Ice cream
Teddy: teddy bears
Gabe:a can of beans
Charlie:a ball she stole from a ball pit at the mall
Meanwhile Teddys Vampirism returns,however she will not die.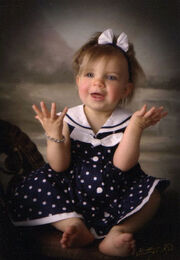 Ad blocker interference detected!
Wikia is a free-to-use site that makes money from advertising. We have a modified experience for viewers using ad blockers

Wikia is not accessible if you've made further modifications. Remove the custom ad blocker rule(s) and the page will load as expected.