Uh...DUH! is a movie.
Hydie A. Loosea as Virgina M'ain'
Ima Baby as Lori Main
Amy Pit as Kathrine Main
Hannah Blu as the enemy Abby Minor
Stu Piddy as Dad Minor
Smella Me as Mom Minor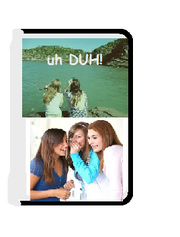 Ad blocker interference detected!
Wikia is a free-to-use site that makes money from advertising. We have a modified experience for viewers using ad blockers

Wikia is not accessible if you've made further modifications. Remove the custom ad blocker rule(s) and the page will load as expected.